The
E-commerce

Marketing
Infrastructure
Needed To

Grow

Convertedin is a marketing operating system for e-commerce, which utilizes data and shoppers' insights to create personalized multi-channel marketing that boosts customer engagement and maximizes ROI.
Trusted by
Prospect, Convert & Retain Customers With Convertedin
We'll help you target the right customers, engage shoppers, and save time with ready-made automation templates.
Request A Demo
Dynamic Ads Automation As Easy As ABC
Boost sales and entice shoppers with personalized ads across multiple channels using our e-commerce-focused automation platform.
Automate your ads' strategy and management to upscale your ROAS across Facebook, Snapchat, and Google Ads.
Retarget customers to get a high ROAS and re-engage site visitors who walked away.
Get a complete view of your ads and launch campaigns with the best performers.
Get customized insights consolidated through your social media platforms.
Explore Ads Automation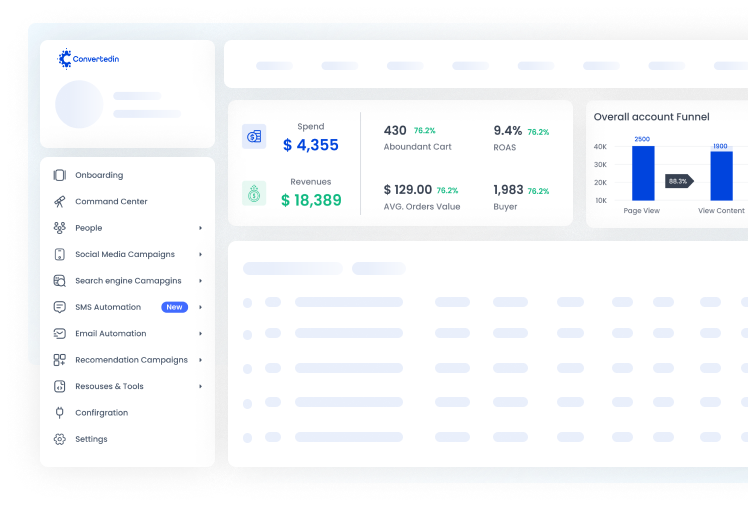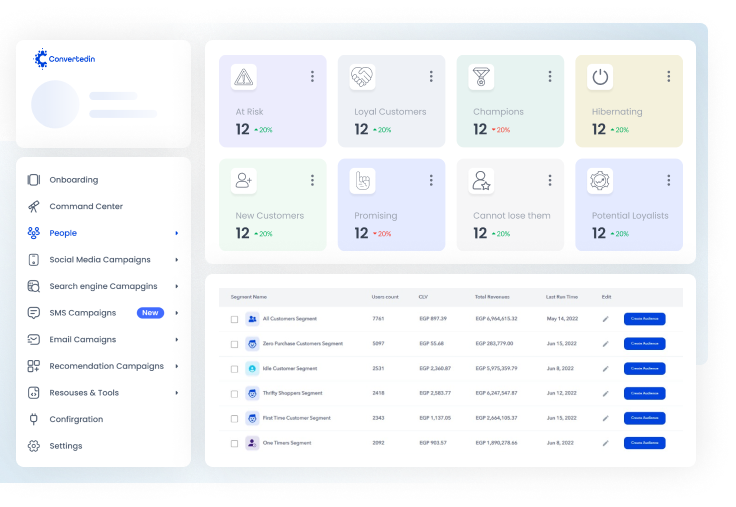 Auto-Segment As You Please
No need to filter and analyze customer segments on your own anymore; With Convertedin's automated segmentation engine, we'll achieve your audience targeting.
Use segmentation to target your messaging across all of Convertedin channels.
Our segmentation allows you to filter your audience based on various transactional events and buying behaviors.
Personalize your retention strategies for your most valuable shoppers.
No need for manual imports anymore – your saved segments will automatically update in real-time.
Start Segmenting
SMS & Emails Go Hand-in-Hand With Convertedin
Build and customize personalized SMS and email marketing campaigns effortlessly to increase your ROI.
Create a campaign for each activity (reactivation, post-sales campaigns, etc.).
Create your campaign's workflow with just a few clicks.
Integrate SMS & email effortlessly .
Send Your SMS/Email Now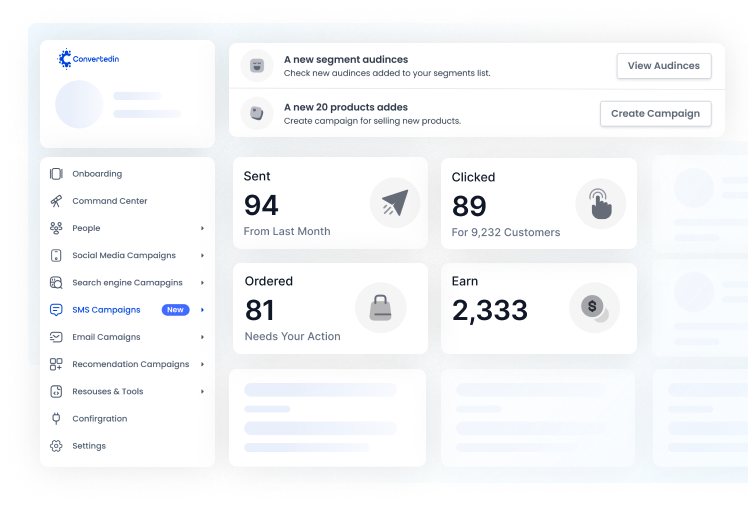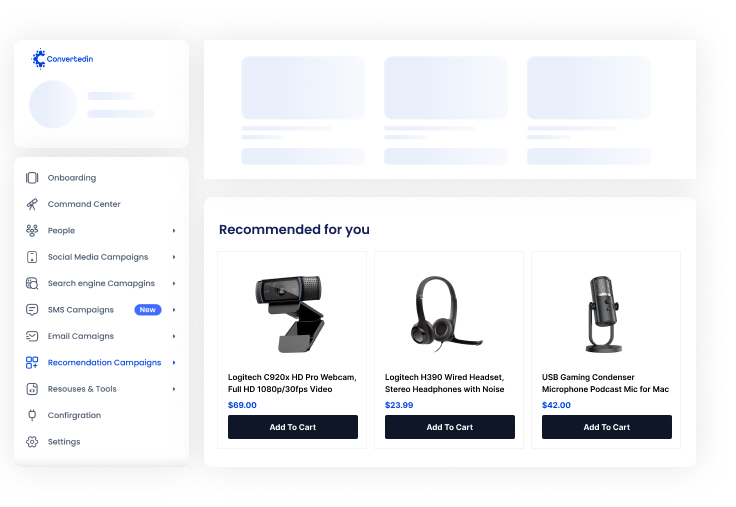 A Powerful Product Recommendation Engine
Say goodbye to generic recommendations! With our engine, you'll be able to offer customers relevant recommendations based on their purchase history.
Choose a variety of recommendation types.
Encourage upselling on high-conversion pages.
Showcase related products and recommend trending ones to your customers.
Start Making Recommendations
Check out how
convertedin

has been a game-changer for our customers, skyrocketing their ROI.
At first, we started to use Convertedin to grow our ROAS, but as it doubled, we discovered that it was just the beginning. Convertedin algorithms helped us reach out to the perfect customers and understand and retain them. Convertedin acted as a second team working to deliver the best results for Chefaa, not just another software we use.
---
Doaa Aref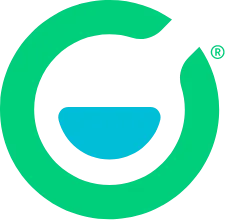 CEO - Chefaa
Getting introduced to Convertedin was a major turning point for our business. From the first few days, we started seeing real insights about our customers, and after the first week, we noticed several conversions. Convertedin made marketing automation and dynamic ads easier with a visible ROI. It is a significant addition to any e-commerce business seeking growth.
---
Sally Emara

Head of e-commerce - eParkville
After using Convertedin, our revenues increased by 200%. In addition, we could reach our customers across Facebook, Google, and other social media platforms, all with no effort from our end. So if you're an e-commerce business, you've to use Convertedin.
---
Zakaria Ibrahim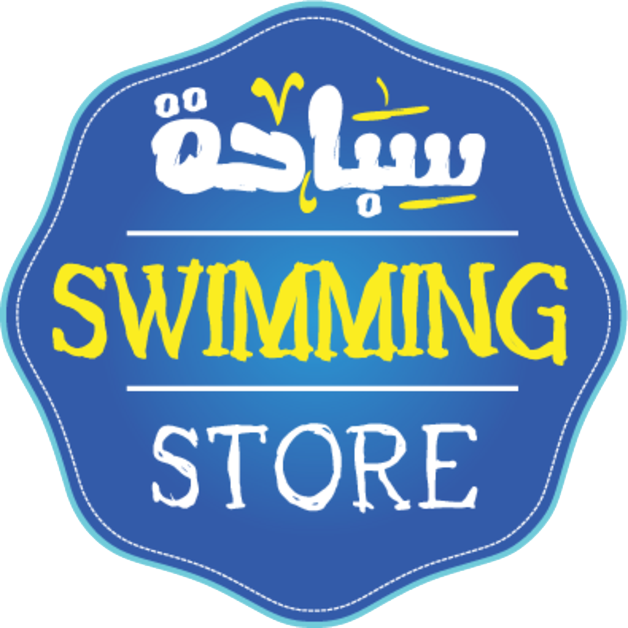 Swimming Store Manager - Swimming Store
We've been working only on Facebook marketing, but its results were minimal until we started using Convertedin. It allows you to focus on the best creatives and audiences. Also, the control panel is easy to use, fast, and gives you a quick overview of your account performance.
---
Tmarat

Tmarat CEO
I tried multiple ad automation platforms, and we can say, for sure, that Convertedin is the best in terms of usability, setup, and results. We were getting a maximum of 5X ROAS, and within the first week, we got over 10x ROAS. I highly recommend it.
---
Natavis

Natavis Owner
Ready to Uplevel Your E-commerce

Marketing Game

?

Schedule a demo session today with one of our experts & check out our solutions to grow your business.
---